Ask Me Anything - Onboarding Testers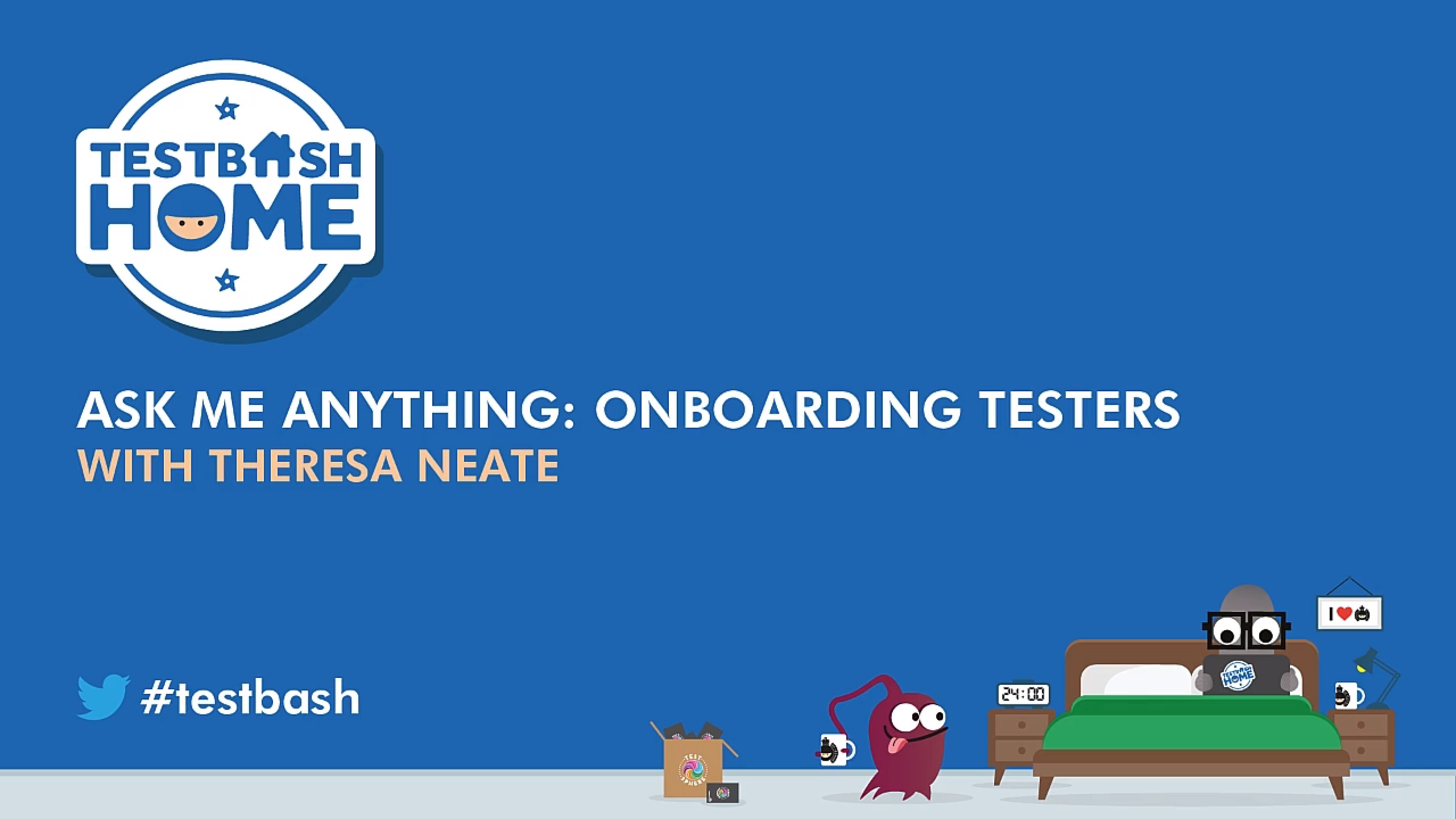 Description:
We were joined by Theresa Neate who answered the following questions and provided lots of insight into Onboarding Testers.
How is onboarding testers different to developers?
How do you onboard people remotely effectively?
By the end of a new testers first week, what are the top 3 things you want them to know?
What resources and tools are most helpful to get new testers up to speed?
What usually doesn't work when onboarding testers?
How do you build confidence and trust in the new testers' skills, so they're empowered to do their work instead of consulting the testing expert?
What is the best question to ask at an interview to get an insight if someone will be good at testing?
What practical steps can be put in place to help mitigate that information overload/overwhelm?
Have you had more success in throwing everything the new tester needs to know at them at once or giving pieces of information on a need-to-know basis?
Is there a difference between onboarding in a consultancy versus onboarding in a product company?
How do you onboard someone who is an experienced tester, but new to a certain domain or device type?
How do you onboard a tester in a very different timezone (let's say in Europe when the team is in Australia)?
Since ISTQB was brought up, how important do you consider that cert when looking at potential hires?
As a tester when you start a new job what expectations do you think its important to set?
What does a bad onboarding experience look like (from a new starter's perspective)? How can we address it, especially if you're more junior?
How would you onboard a completely new tester, with no previous testing experience?
What could a tester do to onboard themselves if there is no company/team onboarding, or it's lacking?
How to organise a friendly and fun welcome for new team members in a remote environment?
What is the most crucial training a tester should have in the first week when starting somewhere?
How can you help onboard your future manager?
What do you expect from other testers who already work there regarding to the newly joined tester?
What would you do if someone is a bit passive and maybe doesn't know what to do? How would you encourage them and set them on the right path?
On average, how long would you expect onboarding to take / after how long would you expect a tester to be 'fully functional?