Dude, Why You Don't Test UX? - Greta Ruškienė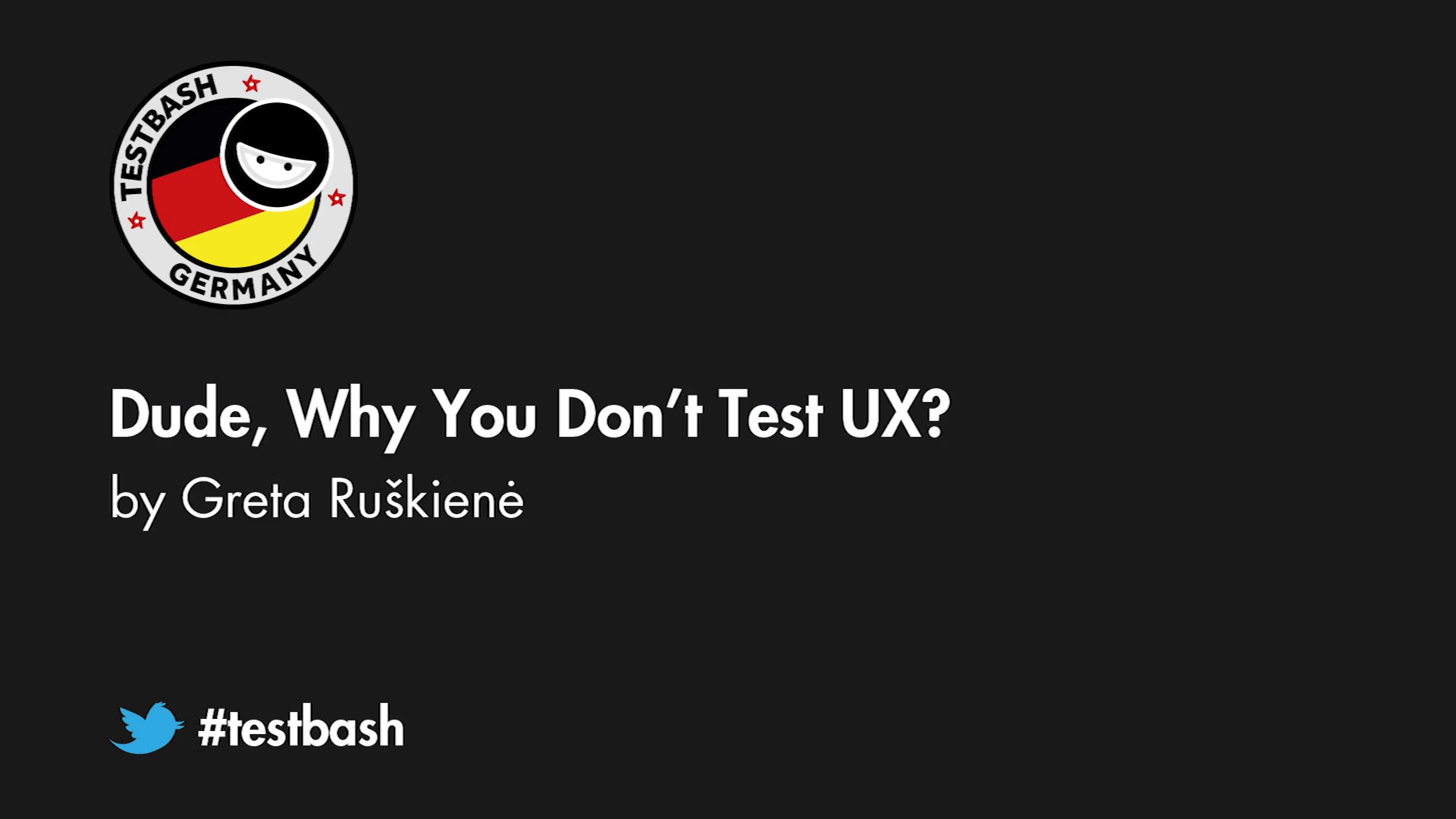 Description:
I noticed, that most companies have no UX designers and products are just created by developers without any clear idea of how it should look and how it should work. I want to remind, that quality is not only accurate numbers in tables or correctly filled forms. Quality is also overall look and feel of the product, so QA should also work on making the product look and feel good (or at least better).
I will ask my audience some question e.g.:
How many of you know what is UX? And will give a definition of UX and also explain the difference between UI and UX.
How many of you have UX designer on board?
Firstly I would like to tell my story of how I used to work with UX designer and how I handled my work while having no UX designer in the company at all. I will tell some tricks on how to convince your developers and team leads to start changing the UX and how I managed to get a UX designer onboard, including:
Learn about good UI/UX;
Start writing UI/UX related bugs;
Do some usability labs;
Use paint (crop and drag!);
Question new features;
UI/UX hall of shame/fame;
Stop talking about business to business applications, we all want to use "Facebook" on our daily basis!
Don't get used to bad UX!
Grow little UX designer in every developer!
Don't stop, even if you have UX designer, as you are the one who uses the product every day!
Direct UX impact for your product:
For apps UX usually impacts rating in-app store;
For webpages UX can impact the sales of products on the website, likability to use your web against concurrent product and more;
For desktop application it might take a lot of time to train your users if UX is not intuitive and users are more likely to choose competitors product against yours.
All in all, I am very passionate about UX, so I can talk about it a lot :)
Takeaways
UX is important and can affect your product ratings in app store and overall user satisfaction.
If you have no dedicated UX designer, then QA should also cover this role.
Ways, how to drag your colleagues in to UX, so it would not be only your wish, but all teams purpose and target.
What you can do to make your product better on a UX side.