What You Looking at? Modern Art and Testing in the Blink of an Eye - John McGee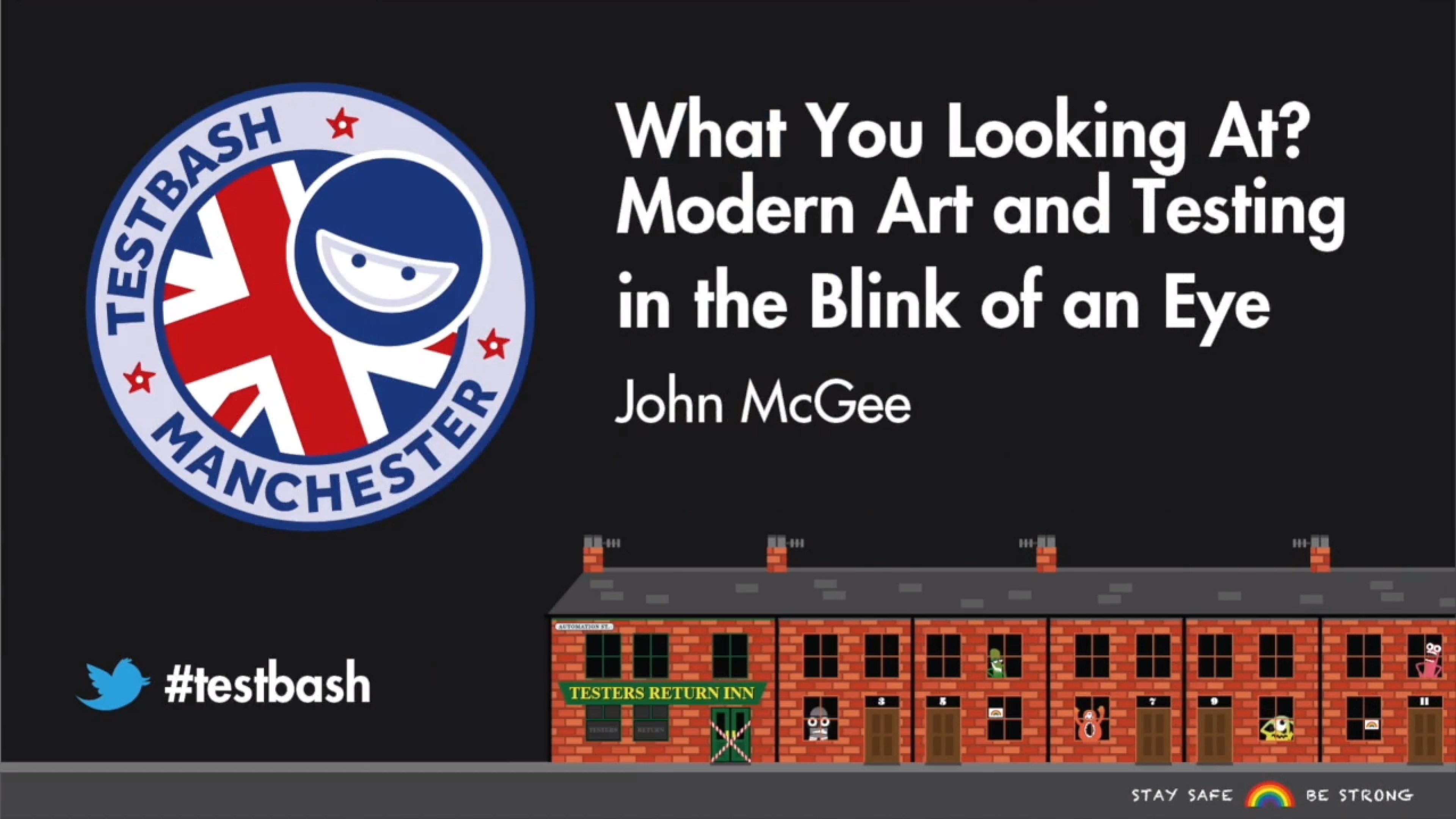 Description:
Join me on a dazzling tour that will change the way you look at testing (and art) forever. While looking at a Jackson Pollock painting in New York it struck me that while I loved the painting I didn't have a clue about what it or most of the other paintings in the gallery represented. I therefore did what all good testers do and looked for an oracle. Quickly concluding that I couldn't haul an art professor about to answer all my questions I did the next best thing and bought a book about Modern Art.

Whilst reading this it quickly struck me how many similarities there where between what we do as testers and how artists paint, think and promote their work.
I realised the non-cubist nail in a cubist painting was the same as the long leash heuristic keeping the observer rooted into reality.
I blew my mind with Malevich's black square and lost endless nights of sleep contemplating it, before coming to understand that oracles are as important in art as they are in testing.
I found out how America's greatest modern artist was almost dismissed as worthless by the worlds greatest art collector until he came to the attention of someone who's opinion mattered.
I discovered that the worlds great art movements have manifestos which then led me to think about mission statements and the Agile Manifesto.
I learned artists used focusing and defocusing techniques and linked these to techniques we use when exploring and while working out the steps to reproduce issues.
I read about how Cezanne turned the art world on its head by questioning what he saw just as an exploratory tester does
I saw how the surrealists painted with ideas feeding off ideas linking this into our exploration.

I came across so many connections while reading this book that it's impossible to list them all here, it gave me a greater understanding of perspectives and how bias impacts artists and testers. I found out that artists use models, tools and heuristics in the same way that we do, how we use questioning techniques and how we simplify complex thoughts. I considered stakeholders in the art and development world, how the familiar can be used as an oracle, how we can overcome fears and obstacles and I found how artists told stories and presented images to their audiences.

So, come with me on this journey through modern (and some classical) art, we'll weave some testing into the mix so that you'll never look at a painting in the same way.