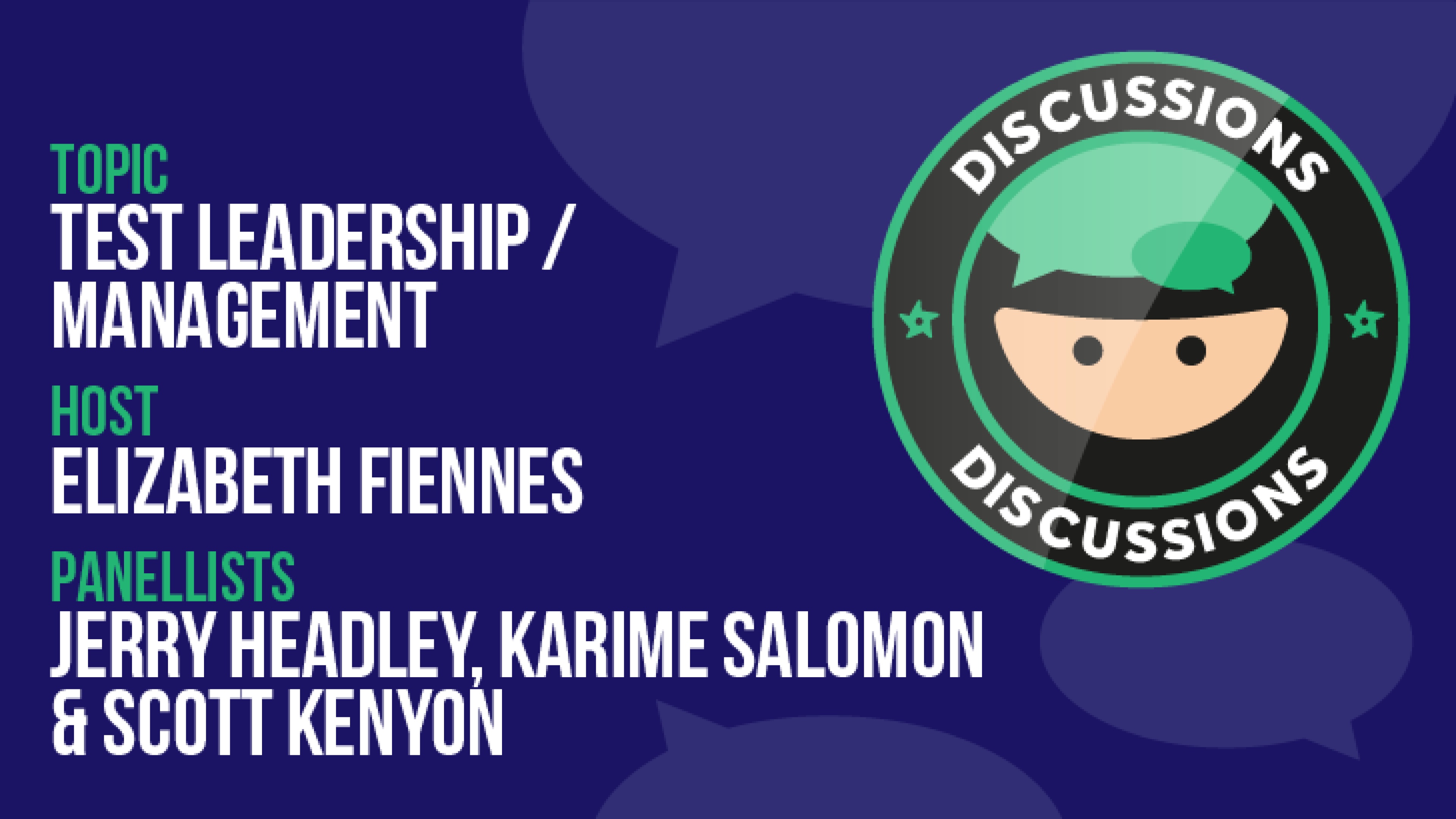 Watch the Panel Discussion hosted by Elizabeth Fiennes and guests Jerry Headley, Karime Salomon and Scott Kenyon discussing Test Leadership / Management
Looking to move into Test Leadership/Management?
Spending most of your time managing testing instead of leading it?
Looking to improve your leadership skills, or have some specific challenges you'd love support with?
This recording will help clarify these and much more.
What You'll Learn
Join Elizabeth Fiennes as she hosts Jerry Headley, Karime Salomon and Scott Kenyon as they discuss all things Test Leadership / Management
Elizabeth Fiennes
Quality Engineering Manager
Been in testing and QA since 1998. Yes, they had computers way back then. No, my first tablet was not made out of stone :) Since then, she has taken some time off for two people shaped development projects of her own. She describes herself as "cat slave" to a very large and opinionated Tuxedo Tom who likes walking across keyboards and spilling tea. Doing talks and writing blogs were not something she was comfortable with so she challenged herself to start doing them in 2018. One of the happiest results of this experiment was making new wonderful friends which is one of the best outcomes of breaking out of any comfort zone.
Jerry Headley
Senior Quality Assurance Automation Engineer at Walkers Global LLP
21 years of being a Quality and Test Advocate......Father and Grandfather......Likes watching sport more than participating..
Karime Salomon
Director, Quality Engineering
Engineering leader driving a culture of transparency, ownership, collaboration, accountability and quality through agile methodologies and automation.
Scott Kenyon
QA & Release Manager
Passionate about communciation and neurodiversity in testing. being diverse myself i bring a difrerent perspective on my own testing I strongly believe in collaborative methods and using different thought techniques and people perspectives to look at things from many angles. communication is about influence and impact we can have on others through testing and how we talk about it. i have moved onto a leadership and mangement role now in addtion I have also taught, coached and mentored people throughout my career. Getting more talented people to come into testing and showcasing there skills.