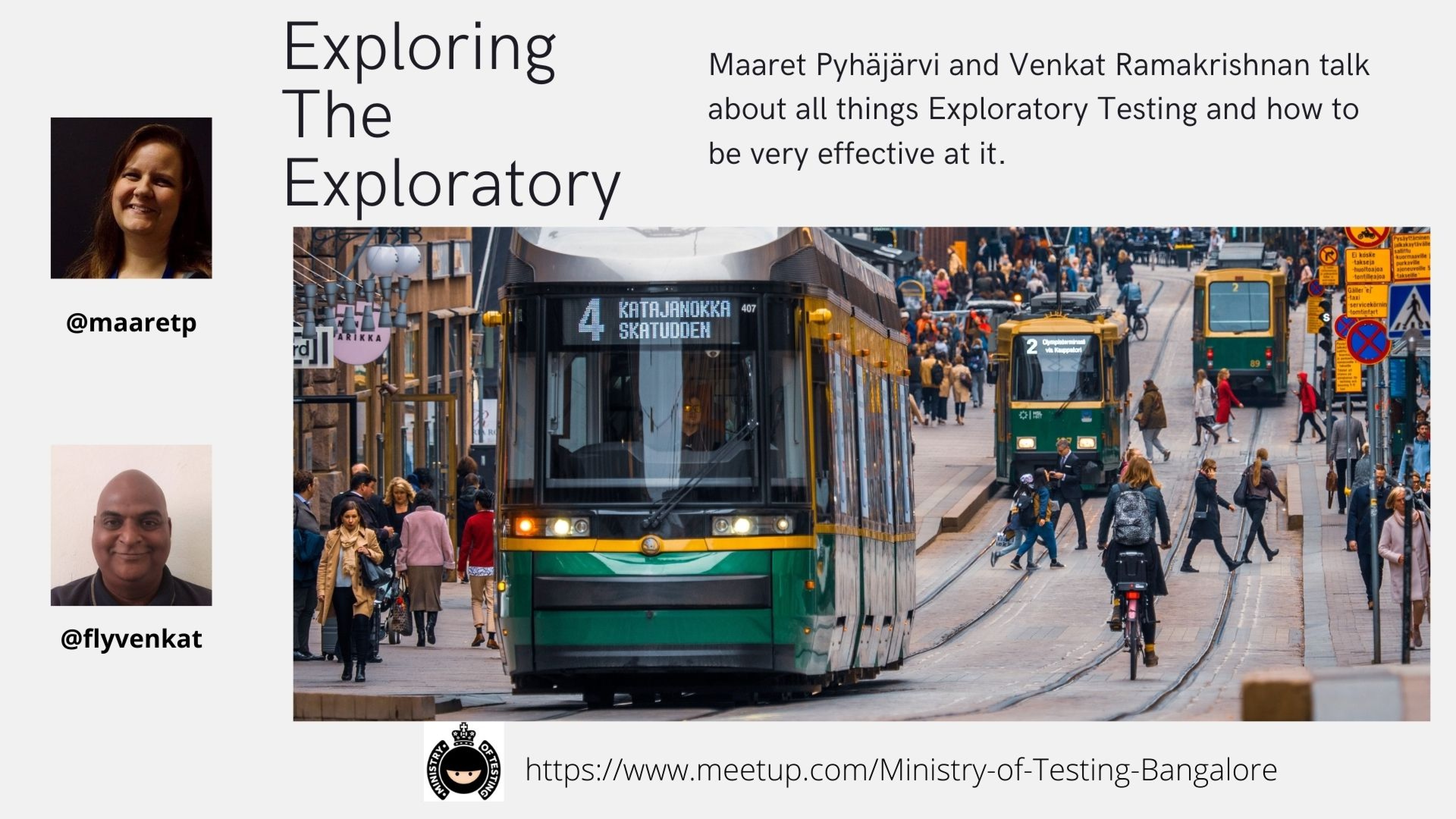 Exploratory Testing is seen in a new light today, with the introduction of heavy automation in Testing. Human thought processes are important to guide and orient the Testing process, for which exploration is key. While the purpose of explorations could vary, the basic tenets of exploratory testing have pretty much remained the same over the years.
In this panel discussion, Maaret Pyhäjärvi and Venkat Ramakrishnan talked about all things Exploratory Testing, and how to be effective at it. A lot of ground was covered on the hows, whys, and what-ifs, so you get a thorough understanding of the concept, and how to realize it a very important component of Software Testing.
About The Speakers
Maaret Pyhäjärvi is an exploratory tester extraordinaire with a day-job at Vaisala as Principal Test Engineer. She is an empirical technologist, a tester and a (polyglot) programmer, a catalyst for improvement, a speaker and an author, and a community facilitator. She has been awarded the two prestigious global testing awards, Most Influential Agile Testing Professional Person 2016 (MIATPP)and EuroSTAR Testing Excellence Award (2020), and selected as Top-100 Most Influential in ICT in Finland 2019&2020. She'sspoken at events in 25 countries delivering over 400 sessions. With 25 years of exploratory testing under her belt, she crafts her work role into a mix of hands-on testing and programming and leading and enabling others. She leads TechVoices enabling new speakers, blogs at https://visible-quality.blogspot.fi and is the author of three books: Ensemble Programming Guidebook, Exploratory Testing and Strong-Style Pair Programming.
Venkat Ramakrishnan is a Software Test Technologist Consultant
serving the Logistics and Supply Chain industry, which uses cutting
edge technologies like Machine Learning, APIs, asset digitization, NLP,
computer vision, and location services. Venkat has a strong background in Testing and Quality with 29 years of industry experience in testing embedded systems, systems software, and network management applications. Venkat takes pride in being part of building the Internet in 1990s. Venkat can be reached on Twitter at @flyvenkat, and on LinkedIn at https://www.linkedin.com/in/venkatramakrishnan/