Test/QA a Gate Keeper's Experience – Michael Wansley aka TeeWanz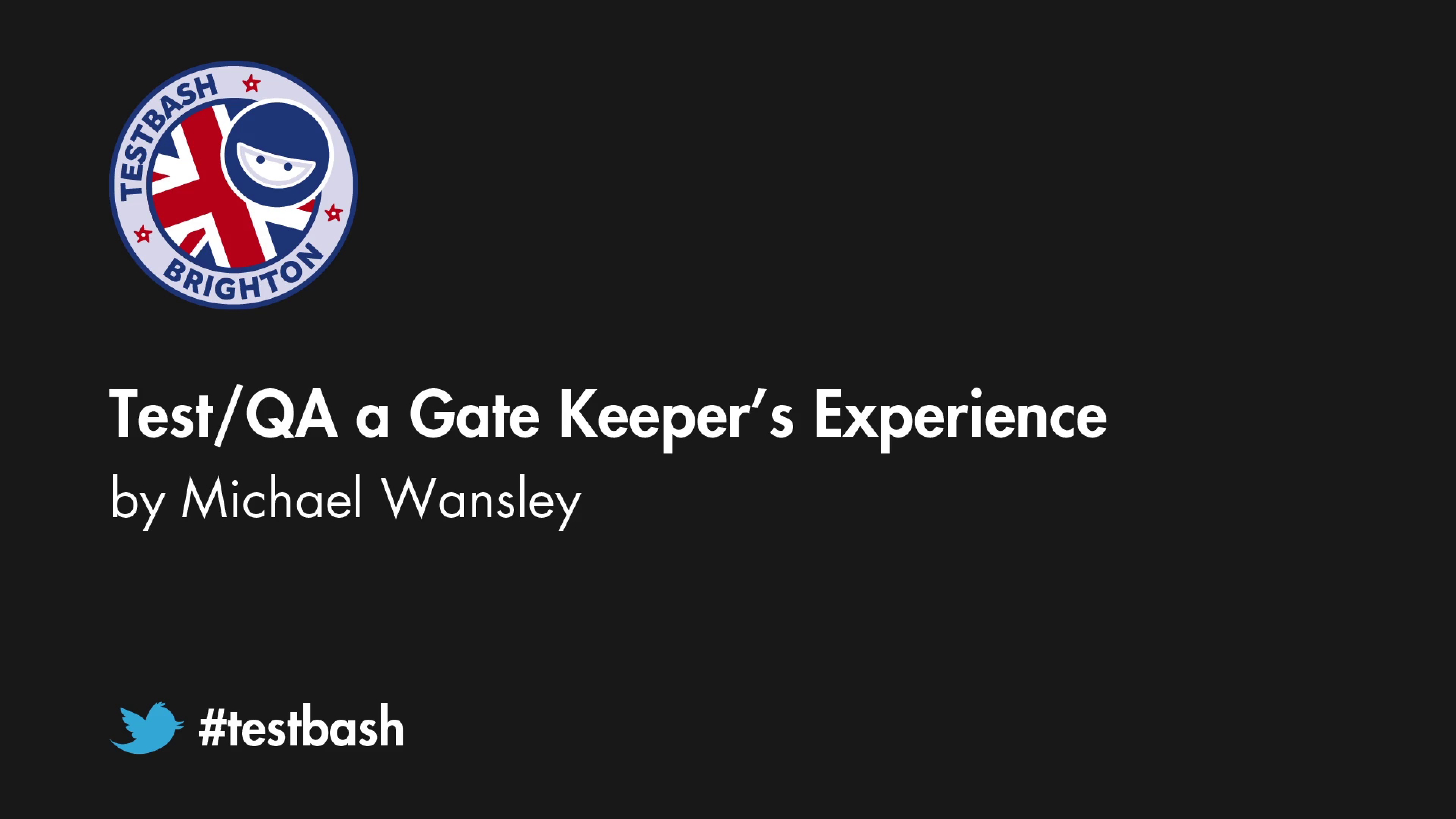 Description:
I got into testing at the beginning of 2000. I had been driving a delivery van in Seattle, delivering hair products for a local distributor for 10 yrs prior. My kids were getting older, things were getting more expensive and personal computing was rising in popularity and becoming more affordable. A friend of mine gave me one of his old 486 boxes after an upgrade and told me I could record music on it. After buying a copy of Cakewalk, a hard disk audio recording program and installing it, I found out that Windows 95 wasn't the most stable of operating systems. Errors led to questions and that led to me finding those answers.
Being a 'gate keeper' has many meanings. After my years at Microsoft, particularly while working on the imaging team and being responsible for the digital image transfer wizard, it's inbox drivers and UI experience, I've discovered and have come to believe that testers are the user's advocate. It is a tester's duty to emulate as many different user skill levels, understanding of systems and process, workflow as well as be able to interpret highly technical input. We do this to verify business requirements are met by dev and what has been designed works as expected. Business will always ship when it's right or good for business, but it is up to test and QA to establish and raise the quality of the software being released. Not every issue will be found, not every issue found is a show stopper, but to sign off on a product or feature with the greatest assurance that the user won't realize the software is working for them, that is optimum goal. Software is a tool. A transparent tool that allows the user to accomplish tasks. If a product is well tested, the user never has to think about how the software works and can focus entirely on whatever it is the product is designed to do. I mean, no one actually thinks about how notepad works anymore, do they?
About Michael 'TeeWanz' Wansley
Michael Wansley aka Wanz has been performing music since 1967. Singing for anyone, anywhere at anytime, he made his way through school and off to college to learn how to be a music educator, but by 1984, he'd been in a few bands and tasted a bit of local success. This, combined with other economic challenges, compelled him to give up being an educator and move to Seattle to become a star!
After over 13 years of failure on the music side, Michael began teaching himself about computers, landing his first real computer gig at a local store that built and sold their own systems. One of his workmates had gotten on at Microsoft's Direct Music team and they needed another tester…Michael got the call and the gig! This led to 11 years of contracting, testing on Win98, Server 2000, Me, XP, Server 2003, IE7, Vista, Office Communicator and other Microsoft products. The experience landed him a full time permanent position testing medical software.
Feeling as though he'd found the best job in the world, Michael established himself as a 'jack of all trades' tester. Able to switch from waterfall to agile testing, moving from one product to another and always developing solid test plans and cases. Not many testers at this company had worked with multiple products, but Michael always seemed to fit in then excel. Customer issues post release dropped significantly on features and products Michael had guided or worked on. Then came 'the call'.
While content to spend the rest of his testing career at what Michael often called "the best job" he'd ever had, a call from a friend turned into an musical opportunity that became the now legendary song "Thrift Shop" by Macklemore and Ryan Lewis. Michael left his full time job to tour the world, living the dream he'd had since single digits!! But all things come to an end. The music hadn't panned out as Michael had hoped and in August of 2015, he returned to the second love of his life, software testing. Michael currently is a QA Engineer on the Sustaining Team at the Seattle home office of Tableau Software, a data visualization company.