Advancing Quality by Turning Developers into Quality Champions - Peter Bartlett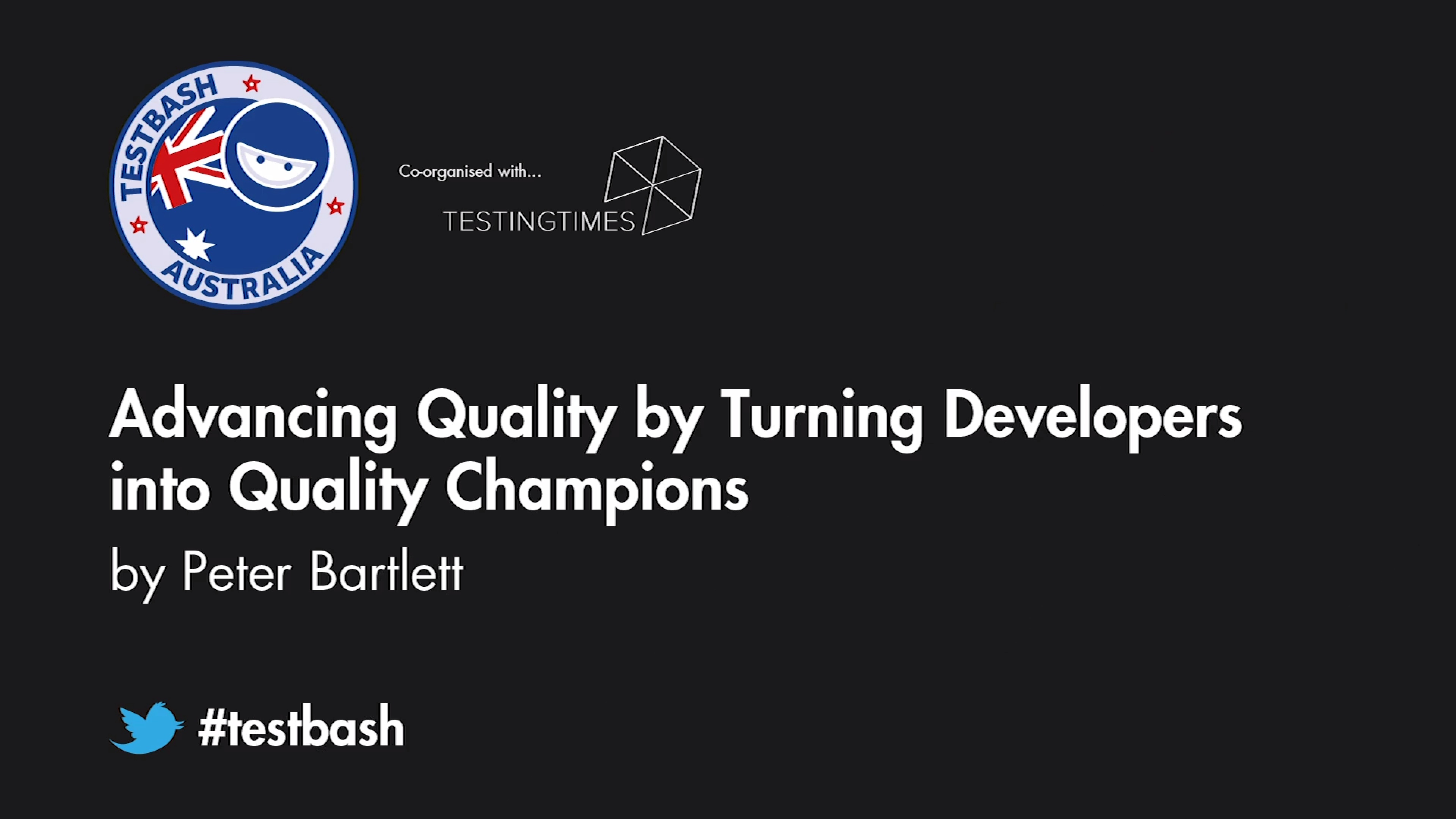 Description:
Imagine the impact you could have in improving the attitude and awareness towards quality in your organisation if you had developers actively fighting alongside you! Imagine having a developer speak up in the daily standup to question the extent and variety of testing done on a task. Imagine the impact of spending time each week, training and teaching developers in testing and quality related topics. Imagine all that you could do with developers actively raising the profile of quality in your organisation.
Imagine no more, you can have developers sharing articles with their team on how to do different types of testing, new tools to research, quality considerations to make while coding and more. You can have developers feeding back the quality concerns and struggles of the product team to the quality team. You can have developers taking regular time out of their week to think of and act on ways to improve quality. You can have developers to explicitly focus training efforts and exercises on, to boost the skills and understanding in regards to quality in the team. All this will lead to shorter development life cycles, fewer bugs created, and an overall better customer experience through the heightened awareness of quality. This is exactly the purpose of a Quality Champion and you need them in your organisation.
In this talk I discuss the Quality Champions program I created to do bring all these benefits, and more, to life. I explain how I define a Quality Champion, how I select them and train them, and how I work with them to improve quality. I provide examples of the positive changes that have been achieved as a direct result of the Quality Champions in my workplace. I demonstrate how similar benefits could be found in your workplace and I give you all the resources you need to make your own Quality Champions program successful, including how to get the buy-in from management to even consider starting.
Takeaways:
Learn about the Quality Champions program and how it could be beneficial to you.
Understand all the steps and resources you need, in order to make the program successful and receive management buy-in.
Learn how to create a deeper relationship with developers, enabling a deeper and wider impact of your quality efforts.
Learn how to teach developers about quality, how to test their own code and others code, how to ask questions that testers ask and more.