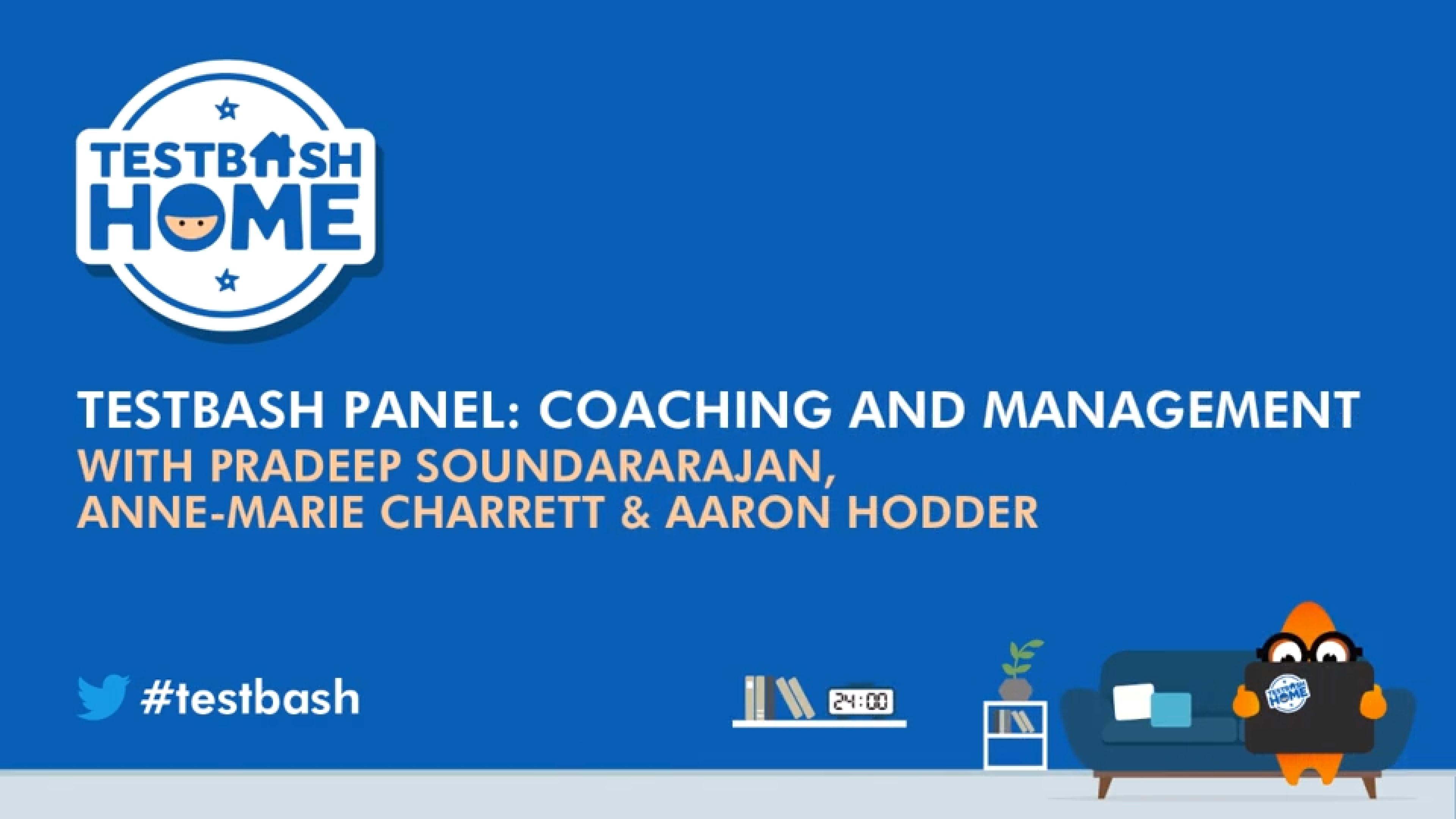 TestBash Home had two great panels, one on Leadership and this one on Coaching.
For this panel our master of conversation was Tristan Lombard who was joined by Pradeep Soundararajan, Anne-Marie Charrett and Aaron Hodder. Over the hour our three panelist share some incredible insights into the topic of Coaching and Management. Exploring there vast knowledge and experience in this space.
If you are actively coaching or have desires to become a coach, you should watch this panel.
Pradeep Soundararajan
CEO of Moolya Testing
Pradeep Soundararajan is the Founder CEO of Moolya Testing and Product Owner of Bugasura.io Pradeep is on a mission to build a software testing start-up that solves fundamental unaddressed pain points in testing. His approach to get there is by helping people build skills and helping people build tools. 16+ years of experience as a hands-on tester, independent test consultant and now a businessman. Moolya Testing is a CDT inspired testing services that have clients across the globe served by ~200 testers and counting. Pradeep values culture, ethics and professionalism more than money. Pradeep is who he is because of his team and family who let him take credit for their work. Pradeep publishes his thoughts on Quora and Linkedin: https://www.linkedin.com/in/testertested/
Aaron Hodder
Aaron Hodder hails from Wellington, New Zealand, where he works for Assurity Consulting to coach testers to develop and deliver new and innovative testing practices to better suit the demands of modern-day software development. Aaron is a passionate software tester with a particular enthusiasm for visual test modelling and structured exploratory testing techniques. He regularly blogs and tweets about testing and is a co-founder of Wellington Testing Workshops/
Anne-Marie Charrett
Anne-Marie Charrett is a software tester, trainer and coach with a reputation of excellence and passion for Quality and the craft of software testing.
An electronic engineer by trade, software testing chose her when she started testing protocols against European standards.
Anne-Marie advocates a whole team approach to Quality. She sees software testing as a skilled activity that many might perform. She trains & coaches teams to help embrace this approach to quality with a contextual mindset.
In the past, Anne-Marie has developed software testing courses and lectured at the University of Technology, Sydney, and ran the Sydney Testers Meetup.
Anne-Marie is available for work through her company Testing Times where she offers consulting, training and coaching services.