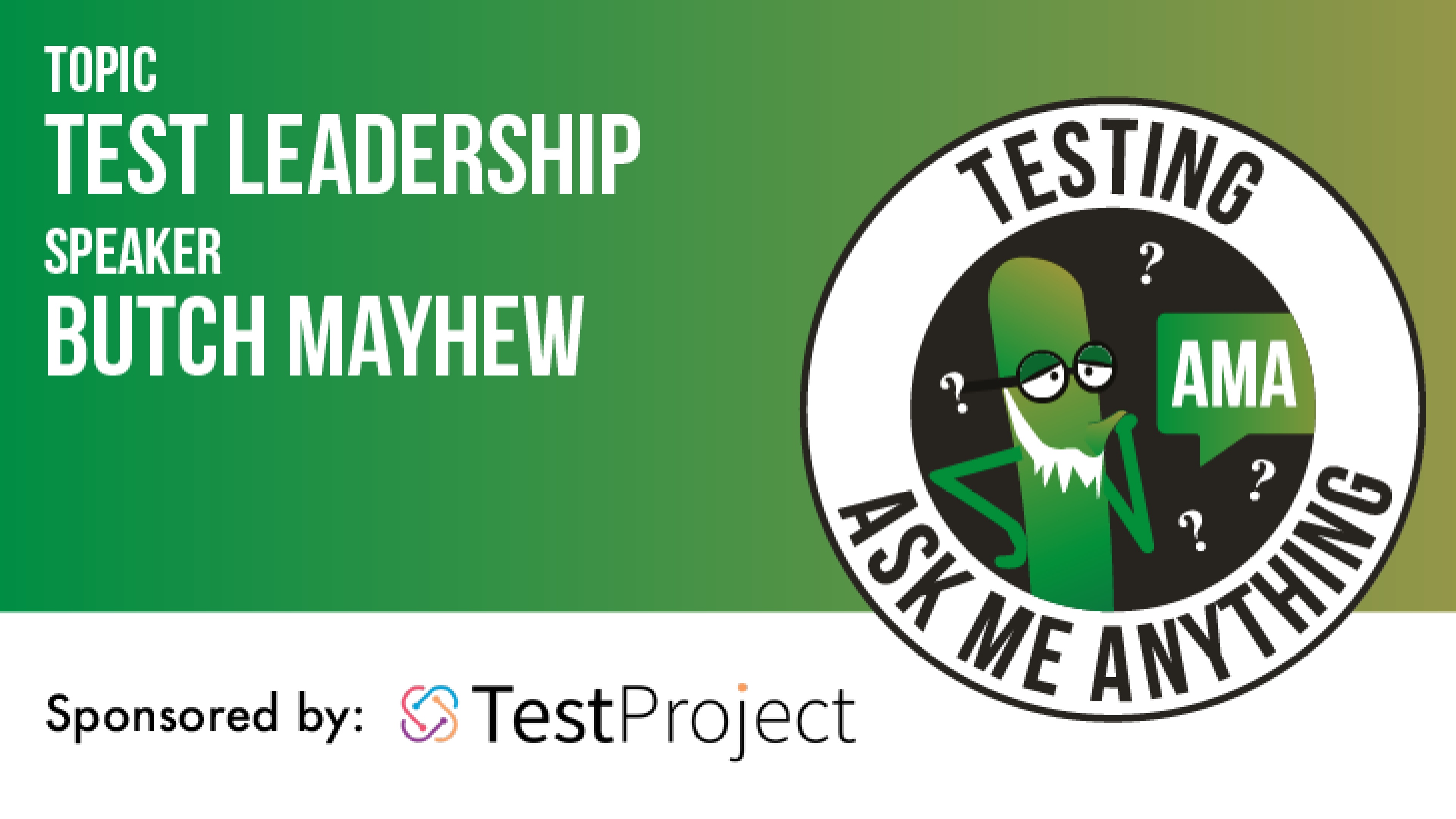 Watch Vernon ask Butch Mayhew all of the questions from the community about Test Leadership. Butch shared
Advice for those new to leadership, as well as more senior leaders
How to support your team to grow professionally
Guidance on how to deal with difficult team members
And so much more. Have you notetaking tools on hand!
Hi! I'm Butch. I've been in management roles over the last 6 years. I have led multiple teams over these years, including hiring and promoting testers and developers, growing teams to meet the needs of the projects. I have transitioned to the Director of Software Test, I lead three Test managers, one of which had limited leadership experience, but I was able to support her and promoted her into a Test Manager role, where she is thriving!
I've had the unique opportunity to integrate existing development and test teams into our teams and processes. During this time I've been exposed to a lot of different ways of organizing teams, testing software, with different levels of strategy and test automation.
This Testing Ask Me Anything is kindly sponsored by TestProject! TestProject is a free end-to-end test automation platform for web, mobile, and API testing that's supported by the #1 test automation community.
What You'll Learn
Get fresh perspective on test leadership, whether you're new to leading a team or more senior, you'll get some guidance from Butch Mayhew's years of expertise.
Vernon Richards
Quality Coach / Senior Quality Engineer
I'm a Quality Coach & Tester that helps orgs, teams & individuals understand the relationship between quality & testing to help them build better products & deliver more effective services. I've been testing since 2002 starting with video games on PS2, Xbox & PC. It may not sound like a real job but it's the truth! By day I'm a Senior Quality Engineer at a health tech night I run Abode of Quality. Here is one of my core values: "The problem is not the problem. The problem is your attitude (& how you're thinking) about the problem." - Captain Jack Sparrow (the part in brackets was my addition though!) I believe that quality & testing problems are actually people problems in disguise! Often the cause of these problems is misaligned goals, different perspectives, low empathy for colleagues, and the list goes on. Using my coaching skills in the quality & testing space, I believe the most effective way to serve the business, is to help teams & individuals gain new perspectives about themselves & their teammates.
Butch Mayhew
Head of Quality and Reliability
Butch Mayhew is the Head of Quality and Reliability at Tilled, who loves finding more efficient ways to complete tasks. This played out in two major areas within his organization; test strategies that focus on deep exploratory feature testing, and creating test automation frameworks that have identified over 150 defects in his test environments. While he isn't busy automating the next boring task, you can find him at the disc golf course during the day or streaming video games for his kids to watch at night!