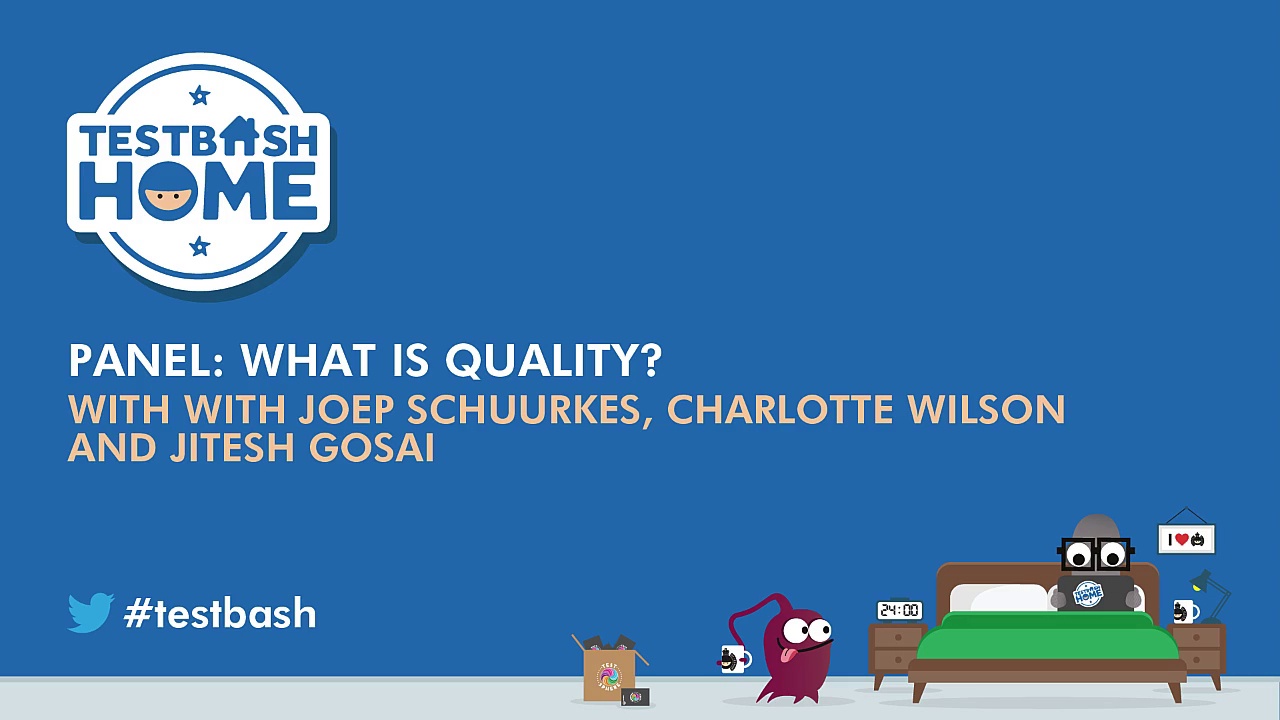 Talk Description
Join Joep Schuurkes, Charlotte Wilson, and Jitesh Gosai as they discuss 'What is Quality?' They discussed the following points:
What methods of measuring quality have the most efficiency?
How do you gauge quality is good enough? Can you have too much testing?
What is Quality Control vs Quality Assurance for you?
So do you agree that quality can be only determined by the client?
How would you prevent or stop exploitation or gamification of quality measures to the disadvantage of the team/team members, rather than the organisation?
What do you tell people when they think that speed and quality are at opposite ends of the spectrum.
What is quality NOT?
What happens when the definition of quality varies between key people?
How does quality impact business growth and revenue?
Should the definition of quality be part of the testing strategy?
Upper management has different opinions about quality (all about metrics). How would you advise explaining quality to senior leadership?
How do you get the business/management to really take the need for Quality seriously enough to define quality and review the culture for a product? As a non-manager?
What you'll learn
Jitesh Gosai
Principal Tester
About Speaker
Jitesh Gosai has over 19 years of testing experience, working with various companies enabling them to build, test and automate at scale. He is currently a principal tester at the BBC in the iPlayer & Sounds department, working with Mobile, TV, Web and Smart speaker teams. His core aim is to create a Culture of Quality by helping teams build quality into their products. In his free time, he likes to speak about his experiences at conferences all over Europe and blogs regularly at https://www.jitgo.uk/blog and tweets @jitgo
Joep Schuurkes
quality engineer
About Speaker
Joep wandered into software testing in 2006. After a decade in which he learned (and practiced) exploratory testing and test automation, his focus shifted to a bigger question. How can teams and organizations build and deliver good software? To answer that question, he has been exploring topics such as technical leadership, agile coaching, and software methodologies. Currently Joep is working as a consultant for Quality Accelerators. He has given talks and workshops at conferences throughout Europe. He's also one of the organizers of the Friends of Good Software unconference.
Charlotte Wilson
Test Team Leader
About Speaker
Hi, I'm Charlotte, I work as a Test Team Leader at Ideagen PLC where I focus on team leadership and testing methodology. I am keen to ensure that testing is both effective and efficient by encouraging my team to try new testing practices. I believe in sharing the work with my team and I am currently concentrating on API testing. I am also a full-time working mummy and I love all things crafting, from sewing clothing to making things with my son,. I also have a foundation degree in fashion design and creation.