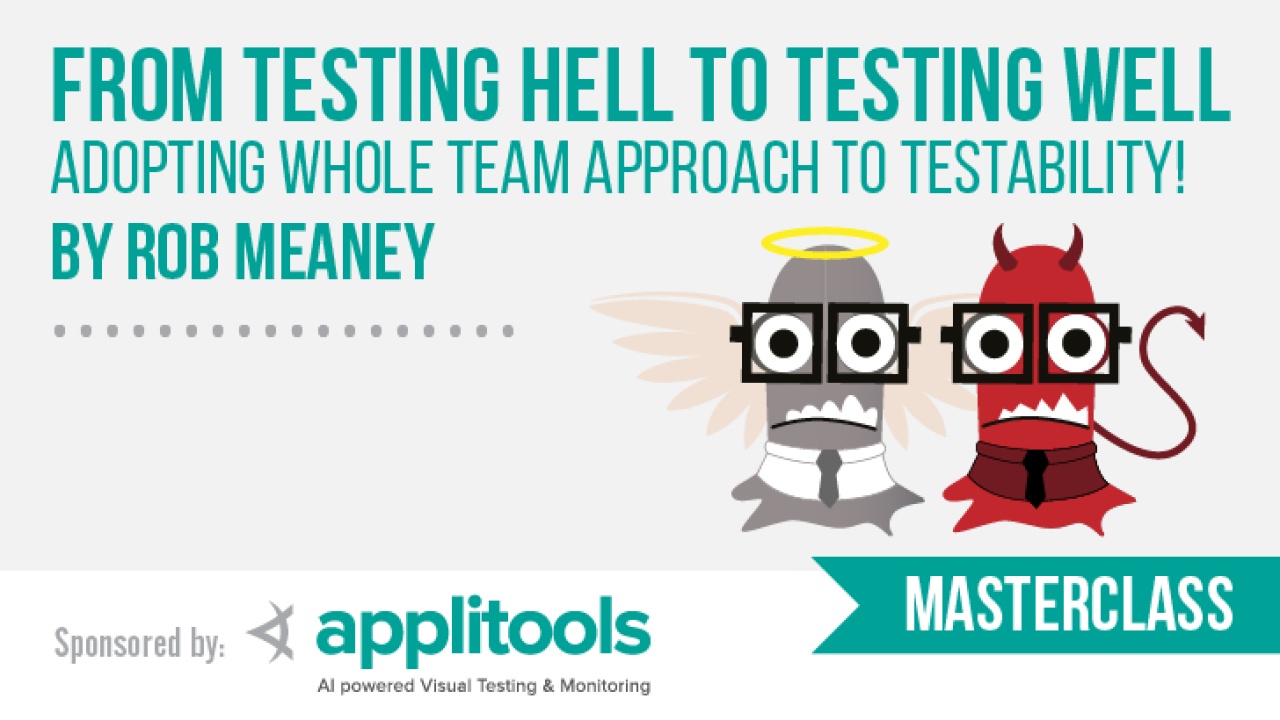 Talk Description
In today's competitive landscape, where failure can be catastrophic and speed to market is a critical business advantage, development teams are under more pressure than ever to get software from concept to customer in as short a time frame as possible. The speed with which teams can safely get changes into Production is constrained by their understanding of the implications of those changes. 

So how do high-performing teams achieve the seemingly impossible task of delivering valuable software with increasing speed and frequency without compromising quality?

To deliver changes safely, quickly and sustainably, teams need to focus relentlessly on Testability, eliminating anything that makes testing difficult, slow, wasteful or less trustworthy. A whole team focus on Testability shortens feedback loops and accelerates learning while enabling more robust automation and deep, meaningful testing. 

In this masterclass, Rob recounts his testability journey and the lessons he has learned. He presents the models, exercises and workshops he used extensively as a test coach to build a whole team focus on testability so you can take his learnings to advocate and inform your own team about testability.
This Masterclass is kindly sponsored by
Applitools
. Applitools is on a mission to help test automation, DevOps, and software engineering teams release apps that are visually perfect -- by providing the only commercial-grade solution that validates the user interface of any app in a fully automated manner.
Find out more about Applitools.
What you'll learn
By the end of this masterclass, you'll be able to:
Inform your team about testability and testing debt
Apply the CODS testability model to identify and address architectural testability problems
Recognise the importance of of the whole team focussing on testability
Apply the 10 Ps testability model to get a holistic view of your team's testing experience
Rob Meaney
About Speaker
<p>Rob Meaney is a tester that loves tough testing and software delivery problems. He works with teams to help create products that customers love and know they can rely upon. Although he enjoys learning about software delivery, in general, he's particularly interested in Quality Engineering, Test Coaching, Testability, and Testing in Production.</p> <p>Currently, he's working as Head of Testing &amp; Test Coach for Poppulo in Cork, Ireland. He's a regular conference speaker, an active member of the online testing community and co-founder of Ministry of Test Cork.</p> <p>Previously he has held positions as Test Manager, Automation Architect and Test Engineer with companies of varying sizes, from large multinationals like Intel, Ericsson &amp; EMC to early-stage startups like Trustev. He has worked in diverse areas from highly regulated industries like safety automation &amp; fraud detection to dynamic, exciting industries like gaming.</p>