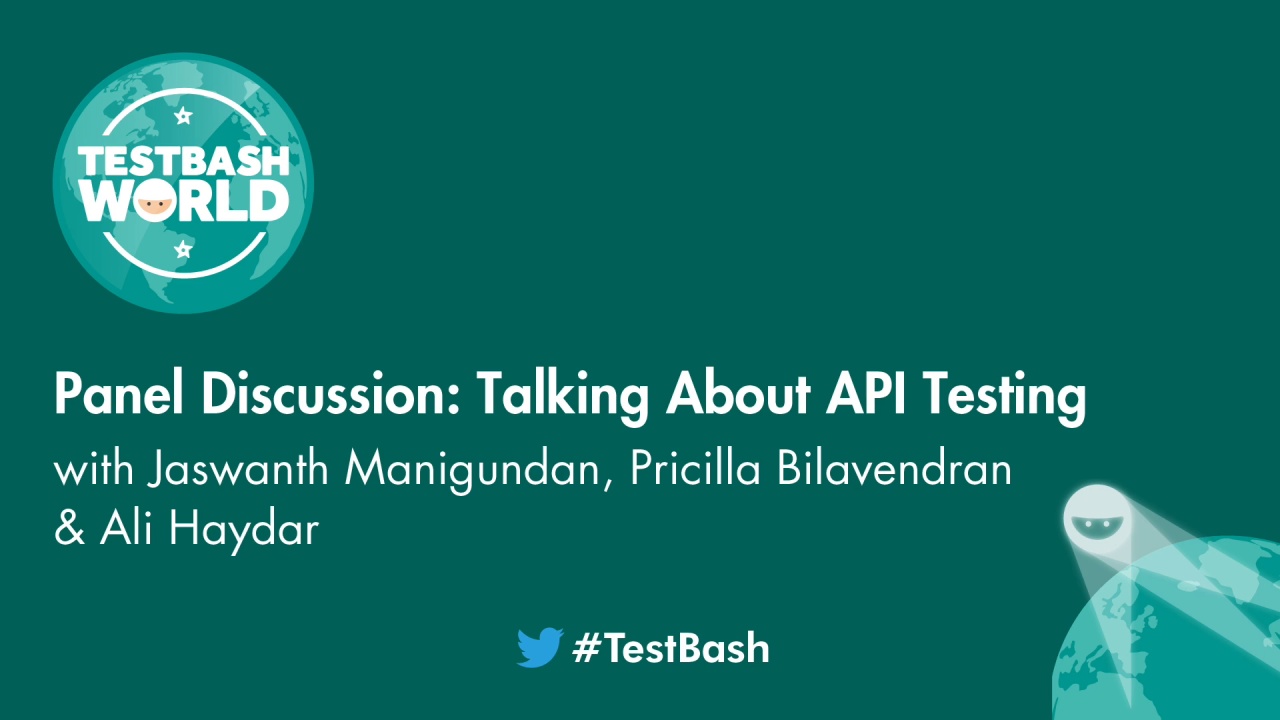 Ali Haydar
Software Engineer
Jaswanth Manigundan
Staff Quality Coach, Culture Amp
Pricilla Bilavendran
Team Leader
Description
In this session, Jenna Charlton will be joined by three testing experts to discuss all things API Testing. This is your chance to get those burning questions live and have them answered by different individuals with different experiences and views.
Jaswanth Manigundan has been a very active member of the Ministry of Testing Community, from giving talks at previous TestBashes to being part of our themed weeks too. Jaswanth is a lead test automation engineer working as a part of the QE practice at Culture Amp led by the legendary Anne-Marie Charret.
Pricilla Bilavendran is an active community contributor through her blogs, webinars and workshops. Pricilla is from Malaysia and is a passionate test engineer with a decade of experience in Quality Assurance. For the past three years, she has been in a relationship with APIs and never stopped exploring and playing around with APIs.
Ali Haydar a senior software engineer, team leader and an AWS community builder is excited by solving real-world problems, mainly with technology (sometimes it starts operationally then gets automated). Ali does not know many things, but he does know how to learn them efficiently and rapidly.
Ali Haydar
Software Engineer
About Speaker
I am a software engineer passionate about building and delivering high-quality software. My expertise ranges from getting into the nitty-gritty details of code (mainly JavaScript and infrastructure) to leading teams, designing software solutions, testing them and communicating progress. I believe that good software is built through collaboration and communication, so I am a big fan of the DevOps ways of working. I am excited about solving real-world problems, mainly with technology (sometimes it starts operationally and then gets automated). I do not know many things, but I know how to learn them efficiently and rapidly. My untraditional career path has equipped me with versatility across the software lifecycle, with a depth of knowledge in a few vital areas and a breadth that covers all the necessary tasks. I had the opportunities to work in multiple roles in the software industry, starting with testing, development, and product/project management. I love learning and sharing my knowledge - currently part of the AWS Community Builders program, which offers technical resources, mentorship and networking opportunities. Check my latest blog posts at: https://ahaydar.github.io/#/blog.
Jaswanth Manigundan
Staff Quality Coach, Culture Amp
About Speaker
I'm Jas from Melbourne. I currently work at Culture Amp as a Staff Quality Coach, specialising in test automation and testability. I have worked in the mobile app development space for almost a decade, where I saw mobile devices and operating systems get better and better by the day. My fascination towards mobile devices made me start my professional career as a mobile app developer. But my quest to build better apps and write code that is much more testable lead me to transition into a test automation engineer specialising in mobile. Since then, I've gradually explored a wide variety of test automation frameworks and have consulted for some of the leading software teams in Australia to build efficient test automation suites for both mobile and web apps. I have spoken about my test automation journey in a variety of testing conferences like the Ministry of Testing's Testbashes, Automation Guild (by TestGuild) and Saucelabs' Saucecon. I now work at Culture Amp alongside the legendary Anne-Marie Charrett helping build a passionate quality enablement team. I currently work with test automation frameworks (functionality, contract and load) for APIs, web apps, micro-services and event sourced systems. Latest obsession… Observability within test frameworks.
Pricilla Bilavendran
Team Leader
About Speaker
Hello - I am Pricilla, currently based out of Malaysia. I do have many roles, which I am juggling every day and making sure to do justice to every role I play. I have been associated with APIs for around three years, and the relationship grows stronger every day. I had a quest to know more about APIs so that I could play the role of API Tester efficiently and never stopped exploring and playing around with APIs. So, I am constantly learning, upgrading myself, and sharing my knowledge through my blogs, talks, and mentoring sessions. Since the Pandemic, I am more into different communities, and love to catch up with people (virtual coffee in MoT is one of my favorite spots) It all started with small internal knowledge sharing sessions, and right now I could make it into a few virtual conferences. I should admit that I am constantly working on my speaking skills. I love to convey things in a simple, funny, and witty manner. Right from my childhood, I cannot learn something new until I build my own story for that concept. So, I am good at telling stories that can help the audience to relate and learn easily.