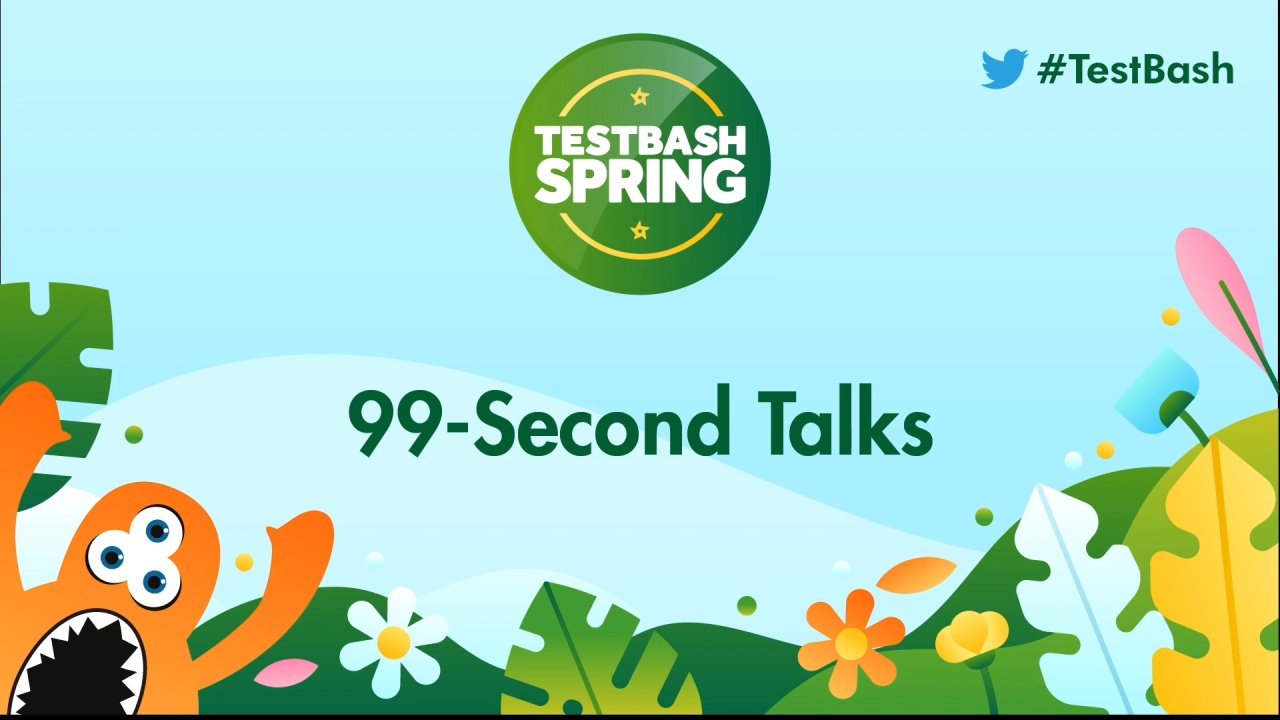 Talk Description
The 99-Second Talks are the attendee's stage, an opportunity for everyone to come on stage and talk for, that's right, 99 seconds.



You can talk about anything, a testing topic you want to share, a personal experience, or an idea sparked by all the fantastic talks you've just listened to... the stage is yours, for 99-Seconds! This is also a great way to get started with your public speaking.



Our stage mom Tristan Lombard introduced attendees on stage and started the clock.
What you'll learn
By the end of this talk, you'll be able to:
Introduction to public speaking
Ways to share knowledge and experiences
Richard Bradshaw
BossBoss
About Speaker
Richard Bradshaw is an experienced tester, consultant and generally a friendly guy. He shares his passion for testing through consulting, training and giving presentation on a variety of topics related to testing. He is a fan of automation that supports testing. With over 10 years testing experience, he has a lot of insights into the world of testing and software development. Richard is a very active member of the testing community, and is currently the FriendlyBoss at The Ministry of Testing. Richard blogs at thefriendlytester.co.uk and tweets as @FriendlyTester. He is also the creator of the YouTube channel, Whiteboard Testing.
Vernon Richards
Quality Coach / Senior Quality Engineer
About Speaker
I'm a Quality Coach & Tester that helps orgs, teams & individuals understand the relationship between quality & testing to help them build better products & deliver more effective services. I've been testing since 2002 starting with video games on PS2, Xbox & PC. It may not sound like a real job but it's the truth! By day I'm a Senior Quality Engineer at a health tech night I run Abode of Quality. Here is one of my core values: "The problem is not the problem. The problem is your attitude (& how you're thinking) about the problem." - Captain Jack Sparrow (the part in brackets was my addition though!) I believe that quality & testing problems are actually people problems in disguise! Often the cause of these problems is misaligned goals, different perspectives, low empathy for colleagues, and the list goes on. Using my coaching skills in the quality & testing space, I believe the most effective way to serve the business, is to help teams & individuals gain new perspectives about themselves & their teammates.
Ben Dowen
Full Snack Tester
About Speaker
Working professionally in Software Testing for almost ten years I've had the pleasure of working on a range of different software. From enterprise infrastructure and virtualisation at Citrix, via WebApps and more then one back-end API and micro-service! I like to think I understand how software is built and where it lives, and this helps give me confidence when exploring and identifying risks. Known online as The Full Snack Tester, I run the daily celebration of the Testing Community called Tester of The Day: https://testeroftheday.com/
Leah Borsari
Information Management Specialist/Analyst
About Speaker
Jen Bauer
QA Engineer
About Speaker
I am a QA Engineer and API testing enthusiast using Postman, with experience in creating automated testing solutions using Newman and Jenkins. I enjoy improving processes and making great, useful documentation for projects and products. I have also been an onboarding educator for new employees. I look forward to sharing my testing experiences with you.
Shelby Lucci
About Speaker