What is Quality Coaching, Why Should Testers Care And What Difference Does It Make For Our Teams?
Stuart Day
Head of Quality - Dunelm
Vernon Richards
Quality Coach / Senior Quality Engineer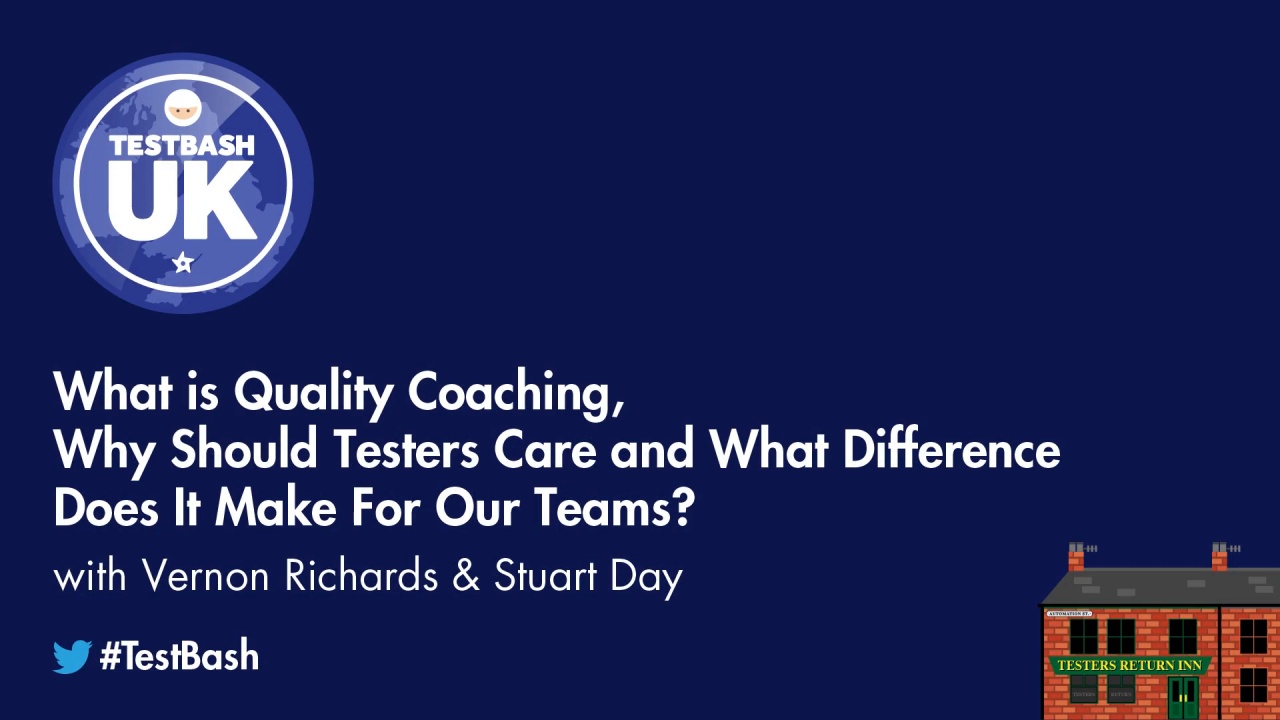 Talk Description
This is just a fancy name for "Testers", right?
Maybe, maybe not. Let's talk about it and find out!
We've been leading, mentoring and coaching quality teams for over a decade.
They've even been known to do that work together over the years! During that time, they've seen attitudes to testing change and evolve.
One recent change is the increasing amount of "Quality Coach" and "Quality Engineer" roles appearing in companies.
Is this a fancy name for the same kind of "Tester" roles that exist already, or is there something significantly different between them?
We believe there are and will highlight the differences during the conference!
What you'll learn
By the end of this talk, you'll be able to:
Define Quality Coaching and Quality Engineering
Compare the difference between quality coaching and quality engineering roles versus traditional testing roles
Contrast how their current approach differs from a quality coaching and quality engineering approach
Choose from more options to deal with quality and testing challenges that crop up in their work
Stuart Day
Head of Quality - Dunelm
Software delivery professional with over 23 years of experience as an advocate of delivering high-quality value to customers at speed. I am a Quality Coach, Cert. Agile Coach and international speaker with a wealth of experience in both Agile, Digital and Business Agility transformation. I have a real passion for people and their success. Focusing on enabling and supporting their personal development and their career journeys. Currently, I am the Head of Quality at Dunelm Soft Furnishings, building a Culture of Quality and enabling continuous quality throughout the organisation's technology landscape
Vernon Richards
Quality Coach / Senior Quality Engineer
I'm a Quality Coach & Tester that helps orgs, teams & individuals understand the relationship between quality & testing to help them build better products & deliver more effective services. I've been testing since 2002 starting with video games on PS2, Xbox & PC. It may not sound like a real job but it's the truth! By day I'm a Senior Quality Engineer at a health tech night I run Abode of Quality. Here is one of my core values: "The problem is not the problem. The problem is your attitude (& how you're thinking) about the problem." - Captain Jack Sparrow (the part in brackets was my addition though!) I believe that quality & testing problems are actually people problems in disguise! Often the cause of these problems is misaligned goals, different perspectives, low empathy for colleagues, and the list goes on. Using my coaching skills in the quality & testing space, I believe the most effective way to serve the business, is to help teams & individuals gain new perspectives about themselves & their teammates.
Suggested Content
Is this on your radar?
Learn more with MoT
Topics
Tags
coaching

leadership

quality

testbash-uk